Main content starts here, tab to start navigating
Friday Specials
We are open for Pick-up and Delivery, Catering and Deli Counter 7 days a week 8-8
We Deliver North to Bluemound, South to Ryan Road, West to Calhoun, and East to the Lake. Call 414-321-4400 to order! online ordering coming soon.
You can also order anything by the pound to take home! Order freshly sliced meats, cheeses, or entrees!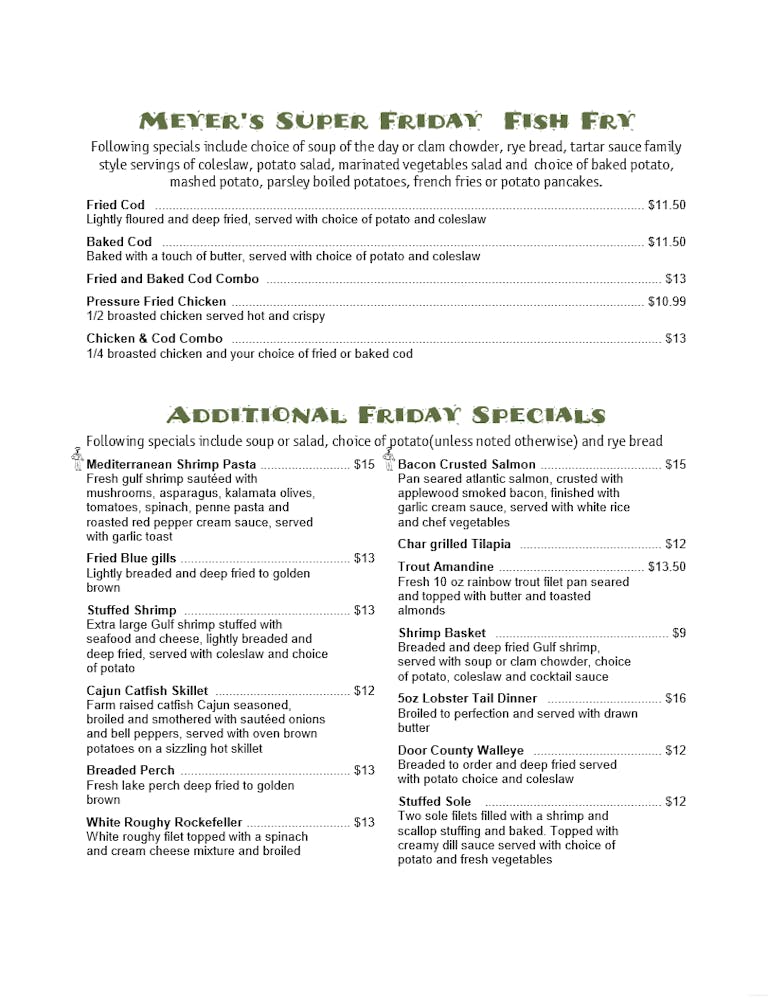 Meyer's Super Friday Fish Fry
Following specials include choice of soup of the day or chowder, rye bread, tartar sauce, family style servings of coleslaw, potato salad, marinated vegetable salad and choice of baked potato, mashed potato, parsley boiled potatoes, french fries or potato pancakes.
Fried Cod

Lightly floured and deep fried.

$11.50

Fried and Baked Cod Combo

$11.50

Baked Cod

Baked with a touch of butter.

$11.50

Pressure Fried Chicken

1/2 broasted chicken served hot and crispy.

$10.99

Chicken & Cod Combo

1/4 broasted chicken and your choice of fried or baked cod

$13
Additional Friday Specials
Following specials include soup or salad, choice of potato(unless noted otherwise) and rye bread
Fried Shrimp Basket

Served with coleslaw, french fries and cocktail sauce

$11

Stuffed Shrimp

Extra large Gulf shrimp stuffed with seafood and cheese, lightly breaded and deep fried, served with coleslaw and choice of potato

$13

5oz Lobster Tail Dinner

Broiled to perfection and served with drawn butter

$14

Stuffed Sole

Two sole filets filled with a shrimp and scallop stuffing and baked. Topped with creamy dill sauce

$12

Door County Walleye

Breaded to order and deep fried served with potato choice and coleslaw

$12

Sal's Seafood Sensation

Sautéed Shrimp, Lobster, Scallops and Lump Crab Meat served over a bed of fresh linguini with your favorite Papa Luigi signature sauce: Garlic Butter Alfredo or Marinara

$18

Char grilled Tilapia

$12

Fried Blue gills

Lightly breaded and deep fried to golden brown

$13

Cajun Catfish Skillet

Farm raised catfish Cajun seasoned, broiled and smothered with sautéed onions and bell peppers, served with oven brown potatoes on a sizzling hot skillet

$12

Breaded Perch

Fresh lake perch deep fried to golden brown

$13

White Roughy Rockefeller

White roughy filet topped with a spinach and cream cheese mixture and broiled

$12
Meyer's Friday Lunch Specials
Served 11am til 3pm
1/4 Pressure Fried Chicken

Served with coleslaw, choice of potato, soup or clam chowder

$8

Luncheon Fried Cod

Served with soup or clam chowder, choice of potato, coleslaw, tartar sauce and rye bread

$10

Luncheon Baked Cod

Served with soup or clam chowder, choice of potato, coleslaw, tartar sauce and rye bread

$10

Shrimp Basket

Breaded and deep fried Gulf shrimp, served with soup or clam chowder, choice of potato, coleslaw and cocktail sauce

$9

Chicken Finger Basket

Breaded and deep fried tenders served with french fries and coleslaw

$10.50
Soup & Sandwich Specials
Fried Cod Sandwich

Lightly breaded deep fried Atlantic cod served on rye bread with a cup of soup or clam chowder

$8.50

Salmon Burger

Grilled salmon patty served on a toasted hamburger bun, with your choice of soup or clam chowder

$8.50

Tuna Muffin Melt

Fresh tuna salad and sliced tomato served atop an English muffin with melted American cheese

$8.50